• Sunday, January 19th, 2014
The Joy of Bonsai – yes. It is the name of a great "show" put on by the Kawa Bonsai Society in Bunnell in mid-January where Orlando Bonsai is a vendor selling our tools and supplies. There are great speakers such as Sean Smith, Mike Rogers and others giving demonstrations and workshops, and there is an outstanding exhibit.
But the Joy of bonsai is also the great feeling one gets when working (playing) with bonsai. It's a passion that evokes the emotions one feels when the tree responds with new growth, flowers, fruit or when the wire comes off and the desired movement is achieved. Or when a new root or branch grows in just the right place. Or when the newly repotted tree looks just perfect in its new pot. When new leaves burst out after winter, there is a certain joy that brings a smile to our lips. On days when it may be hard to find a little joy because of life getting in the way, it might be a good day to work with our bonsai and let a little joy in. Or maybe a lot! Find your passion and feel the joy — The Joy of Bonsai.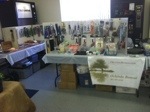 Share on Facebook