• Tuesday, January 13th, 2015
Joy of Bonsai, that is.  Yes, January 16 – 18 2015 is when Kawa Bonsai Society presents Joy of Bonsai Shohin at the Flagler County Extension Office, 150 Sawgrass Road, Bunnell, Florida. This promises to be a fantastic weekend of display, workshop, and demonstrations by accomplished bonsai artists, William Valvanis, Sean Smith, Ted Matson and Mike Rogers.
And Orlando Bonsai will be selling bonsai tools and supplies in the vendor area so please come see us there. We love this annual event and wouldn't want to miss it.  Hope you can join us!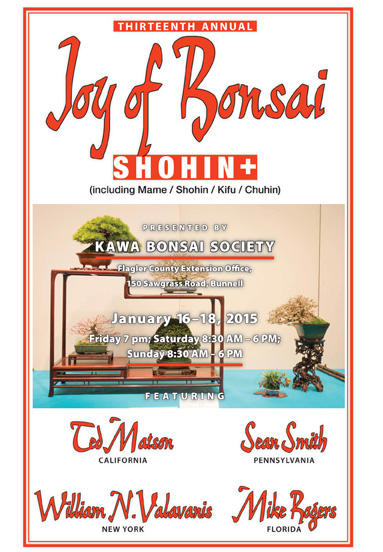 For more information or to register:  http://kawabonsai.com/january-2015-joy-of-bonsai-shohin/


Share on Facebook